Every summer, the lavender growers in the Willamette Valley and the surrounding areas participate in the Oregon Lavender Festival, a time of fun and lavender blooms. When lavender fields bloom, the explosion of color is magnificent. Lavender varieties come in deep purples to white, and every color in between. At Helvetia Lavender Farm, there are 60 different varieties, from the French lavenders that are best known for their aromatic uses to the English lavenders that are best for culinary uses.

Helvetia Lavender Farm is more than just a lavender farm. The lavender farm is connected to Helvetia Christmas Tree Farm, and the proceeds of the lavender farm go to Good Samaritan Ministries. At Helvetia Lavender Farm, the hope is that you will come and enjoy the lavender, and that you'll join in the fun that is always happening there.
The farm is owned and operated by Don and Nancy Miller and their family. Ms. Miller was generous enough to chat with us via email regarding Helvetia Lavender Farm.

Helvetia Lavender Farms – used with permission
The Lavender Buzz: What got you started with lavender?
Nancy Miller: I first started growing lavender because I love the plant, but also because I discovered that lavender grew on banks where not much else would grow. Then my neighbor, Howard Carsman, who started the first lavender festival in the area in 2000, encouraged me to plant a field and join in the Portland Lavender Festival.
The Lavender Buzz: How many years has your farm been in business?
Nancy Miller: After being a vendor at Howard's farm for two years, I held my first festival at Helvetia Lavender Farm in 2005. My "business" is actually a fund raising event for Good Samaritan Ministries, a Beaverton-based humanitarian organization with work in thirty countries. My husband and I raise funds to support the work with widows, teens, addicts and micro business in the country of Ukraine.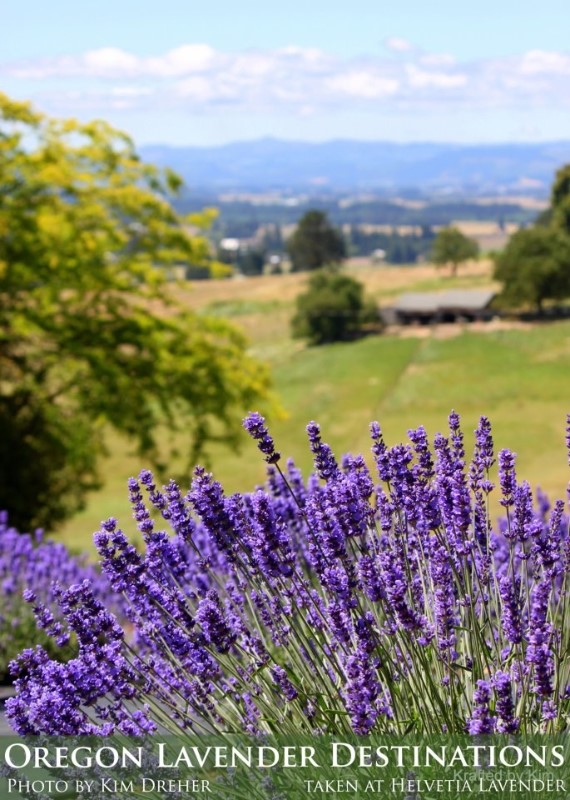 Helvetia Lavender Farms – used with permission
The Lavender Buzz: Do you sell additional products besides oil? If so, what kinds?
Nancy Miller: We sell eye pillows, sachets, culinary lavender, soaps, hydrosol, lavender infused honey and several other OLA branded products.
The Lavender Buzz: What is the most creative use of lavender that you have seen?
Nancy Miller: We discovered that Lavender Magic, a blend of essentials oils which we make, removed the odor of skunk in our gift shop, on our opening day!
The Lavender Buzz: Are you part of a local growers association? If so, how has that helped your business?
Nancy Miller: We have formed the Oregon Lavender Association as a nonprofit to help promote lavender as a viable agribusiness in Oregon. We started with fifteen sites participating in the Oregon Lavender Festival in 2007. We have doubled the number of farms and nurseries in the festival. We have been able to produce rackcards, maps, brochures and to join in advertising our businesses in many ways which we could not do individually. We have also benefited by the expertise that each member brings to our organization. We are extremely fortunate to have several world renown lavender experts in Oregon, such as Andy VanHevellingen, Don Roberts, and others.
The Lavender Buzz: Do you think the lavender industry is benefiting from the "buy local" movement? If so, how?
Nancy Miller: I believe that buying locally has definitely helped the lavender industry, as has the desire to use natural substances like lavender for their therapeutic benefits. Each year I see more young couples and families attending our festival.
The Lavender Buzz: How does the lavender farm help fulfill your goals as a Good Samaritan?
Nancy Miller: In addition to the funds we raise for Good Samaritan Ministries, the lavender "business" has provided a wonderful venue for sharing hospitality, caring, healing and the opportunity for others to become involved in helping others, which are the cornerstones of what it means to be a Samaritan. We have opened a tea pavilion also, during the lavender season: two weeks before and after the festival. We are amazed at how relaxed and restored our guests feel after being surrounded with lavender and being pampered with tea and delicious scones or lunch. The same is true of the participants at our festival. Many of our visitors have become friends who return year after year and often become volunteers in our fund raising efforts.


Helvetia Lavender Festival – used with permission
Helvetia Lavender Farms is committed to producing the highest quality lavender, and to doing something good with the proceeds. They are community minded as well as careful and attentive lavender farmers. The products available at their store or online are guaranteed to be some of the best available.